The Poet Speaks #8: Patti Smith, Toni Morrison, T. S. Eliot, Hart Crane: "I shall make every sacrifice toward that end"
As even "nerd culture" and all the rest just becomes another snobby fad and pop culture corner to hide in, Patti Smith suggests where the real "next" actually is, out of view completely:…when people ask me Who's the new people?, well to me the new people are the unknown people. The new people that I embrace are the people that we don't even know who they are, the people of the future, the kids that are you know in their basements, the group that is struggling out there in Brooklyn, you know it's an abstract thing, but they are the people that I invest my love into.
---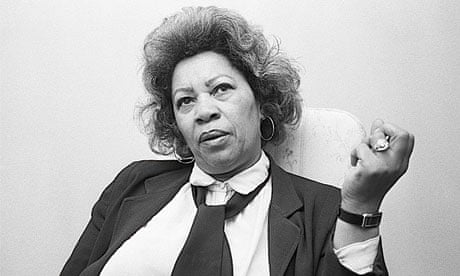 Toni Morrison on whether, while writing her slavery novel Beloved, anger or emotion was any use to the writing: Well, slavery is such a large subject, I wanted to do them justice, I didn't want to make them live happily ever after. Now it is true that there were moments when I faltered and, you know, I would stop writing for awhile until the language was there. But my job was so easy compared to theirs, all I had to do was think about it, write about it, and try to feel it. I didn't have to live it. So I thought, Well, if they could endure that life, the least I could do is write about it. But there were moments when it was a little overwhelming for me…. [But] the emotion is not good, the questioner asked about anger. You don't get over it, you go through it. So you displace anger because it's just not useful. It's not useful to your gifts, it's not useful to your talent, and you write badly…. I can't write out of that feeling.
---
A young T. S. Eliot, in 1919 and by then living in England, on why he hopes his book of essays, The Sacred Wood, should appear in America as soon as possible. He hoped to show his father he had made something of his life, but as it turned out, his father died a few days after this letter was written: I am not at all proud of the book—the prose part consists of articles written under high pressure in the overworked, distracted existence of the last two years, and very rough in form. But it is important to me that it should be published for private reasons. I am coming to America to visit my family some time within the summer or autumn, and I should particularly like to have it appear first. You see I settled over here in the face of strong family opposition, on the claim that I found the environment more favourable to the production of literature. This book is all I have to show for my claim—it would go toward making my parents contented with conditions—and towards satisfying them that I have not made a mess of my life, as they are inclined to believe. The sooner it is out therefore the better, especially in view of my approaching visit. Forgive these domestic details, but I wanted you to understand why I am so very anxious to get the book printed.
---
And in 1924, an even younger Hart Crane writes a letter to his father that would have been impossible for Eliot to write to his. Inspiring but realistic words for all poets: …I think, though, from the above, you will now see why I would not regard it as honest to accept your proposition, offered as it was in such frankness and good will. I don't want to use you as a makeshift when my principle ambition and life lies completely outside of business. I always have given the people I worked for my wages worth of service, but it would be a very different sort of thing to come to one's father and simple feign an interest in fulfilling a confidence when one's mind and guts aren't driving in that direction at all. I hope you credit me with genuine sincerity as well as the appreciation of your best motives in this statement.
You will perhaps be righteously a little bewildered at all these statements about my enthusiasm about my writing and my devotion to that career in life. It is true that I have to date very little to show as actual accomplishment in this field, but it is true that on the other hand that I have had very little time left over after the day's work to give to it and I may have just as little time in the wide future to give to it, too. Be all that as it may, I have come to recognize that I am satisfied and spiritually healthy only when I am fulfilling myself in that direction. It is my natural one, and you will possibly admit that if it had been artificial or acquired, or a mere youthful whim it would have been cast off some time ago in favor of more profitable occupations from the standpoint of monetary returns. For I have been through some pretty trying situations, and, indeed, I am in just such a one again at the moment, with less than two dollars in my pocket and not definitely located in any sort of job.
However, I shall doubtless be able to turn my hand to something very humble and temporary as I have done before. I have many friends, some of whom will lend me small sums until I can repay them—and some sort of job always turns up sooner or later. What pleases me is that so many distinguished people have liked my poems (seen in magazines and mss.)… If I am able to keep on in my present development, strenuous as it is, you may live to see the name 'Crane' stand for something where literature is talked about, not only in New York but in London and abroad.
You are a very busy man these days as I well appreciate from the details in your letter, and I have perhaps bored you with these explanations about myself… Nevertheless, as I've said before, I couldn't see any other way than to frankly tell you about myself and my interests so as not to leave any accidental afterthoughts in your mind that I had any 'personal' reasons for not working for the Crane Company. And in closing I would like to just ask you to think sometime,—try to imagine working for the pure love of simply making something beautiful,—something that maybe can't be sold or used to help sell anything else, but that is simply a communication between man and man, a bond of understanding and human enlight[en]ment—which is what a real work of art is. If you do that, maybe you will see why I am not so foolish after all to have followed what seems sometimes only a faint star. I only ask to leave behind me something that the future may find valuable, and it takes a bit of sacrifice sometimes in order to give the thing that you know is in yourself and worth giving. I shall make every sacrifice toward that end.