I.
Sometime last year I was in the bathroom with my headphones on, holding my cellphone up and balancing that hand against the mirror. I was watching Netflix while trying to shave.
I suddenly felt ridiculous. I couldn't even shave without watching or listening to something.
In the summer of 2001, while getting over the end of a relationship, I came to an intersection (I still know which one) and vowed I would make every moment signify, and not waste a moment even of mourning. As a young man intent on educating himself, this meant occupying my every moment with something: to always be listening to a lecture, a piece of music, a reading of poetry or an interview or an audiobook, or watching a great documentary or movie—and all this when I wasn't actually writing myself, or reading.
In other words, to always be doing these things while I was doing some mundane other thing: driving, doing the dishes, walking from the car to work, exercising, cleaning, doing laundry, eating, taking a bath, cutting the grass, cleaning the yard, ironing clothes, cleaning out the litterbox, waiting for takeout to be done or delivery to arrive—and even, in the end, while shaving.
I was also (I thought) embracing and living that ideal which I
found in everyone from the Buddha to James Joyce—that is, recognizing the shining nature of every moment, the virtue of the supposedly everyday.
Joyce, of course, retold Homer's Odyssey in his Ulysses, taking for his heroes a few ordinary Dubliners; and, as it is said of Zen, the answer to the question "What is the Buddha?" could be, "Have you had your breakfast? Did you wash the dishes?"1 The Buddha is there, if he's anywhere.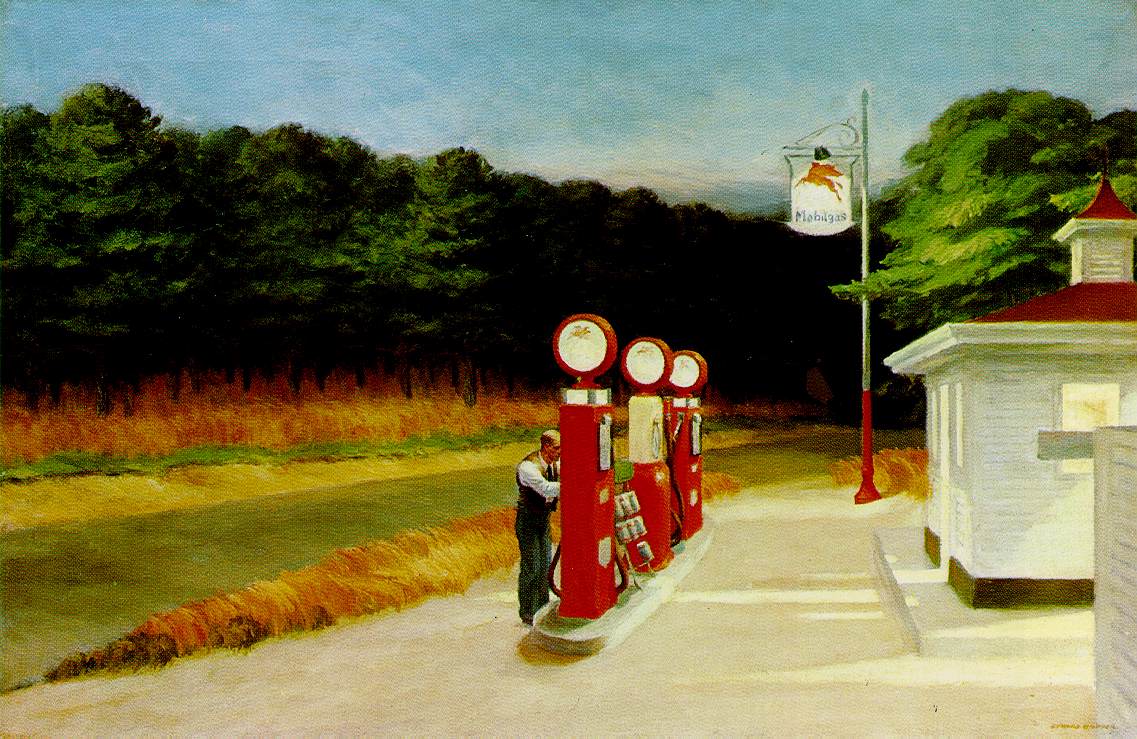 And in both religion and art, whether in the gas station portraits of Edward Hopper, or in something like The Way of the Pilgrim, or in the Tao Te Ching's insistence that
Without going our your door
you can know the whole world
without looking out your window
you can know the Way of Heaven2
I was convinced the sacrament we seek is always right in front of our eyes, and that the present moment is entirely eternal.
As Jesus says in the Gospel of Thomas, "The kingdom of the father is spread upon the earth, and men do not see it."3
This ideal was a great curative to the notion that I (or anyone else) was being an "intellectual" by reading so many books, or that I should feel superior to a mechanic or a waitress or anyone. The whole point of diving into history and religion was only to bring up examples from everywhere that expressed the virtues of the everyday, and to communicate them to others.
This all set my curiosity the large task of finding thousands and thousands of historical and religious anecdotes through lots of reading and listening, and for perhaps half of the twelve years that have passed since my resolution at that stoplight, my immersion in so much really was an education.
At some point, though, it became filler, and suddenly the whole point of this immersion was lost in the impulse that because something is immediately available (and isn't that amazing?), I should access it.
In one of the lectures sets I loved, I even heard a teacher say his students no longer knew the sound of their feet on the ground, or the sound of a street or a hallway, or even the sound of their own thoughts, so perpetually consumed are they with what's coming in through their headphones. But I kept right on listening.
II.
Sometimes I'm surprised I was able to do any writing of my own at all, or that I was able to maintain any level of introspection, since so very little of my time was spent in silence, in the actual company of my own thinking and remembering and processing mind, just sitting back and either emptying my mind or seeing what bubbled up—and it's this kind of moment which our culture of perpetual "social" "media" is destroying.
Here there is no reflection, only continual exposure to something new, not any sense of living in the present but of constantly being pushed into the future. And while this something new could be of great human value, the ability to be exposed to so much requires discipline—especially since most of what's online or on TV is actually garbage.
Previous to the last few decades, we could only experience culture, or even other human beings, through some minimum of required effort, and that effort imposed a kind of discipline—going somewhere other than our homes to get to a theater, or someone taking the time to visit us, or just to pick up a phone and at least be limited by the length of its cord. Even VHS or cassette tapes, or CDs, which seem quaint now and were annoying then, created a boundary outside which they could not be experienced.
(How much different my moment at the intersection would have been, if I could have downloaded all I wanted to see and hear right there and then?)
By contrast, our ability to communicate with others now, or to experience culture, requires no effort, and as a result there is no set time or place where any of it may or may not happen, since it can happen anywhere and at any time. There are no boundaries, and everything bleeds into everything else. And since the possibility of hearing or reading or watching anything anywhere at anytime is considered an unqualified virtue, it's also assumed there's no reason why we shouldn't be connected to something all the time.
And as we are a lonely species that's been told by years of advertising (in addition to well-meaning parents and educators) that to make one's mark in the world is to be known and to be actively "achieving" things of outer value, it's no surprise we'll always choose outward expression and experience, rather than quiet introspection, without even thinking about it.
III.
It could be said that what ruins the possibility of introspection and quiet thinking, and therefore ruins the possibility of real and meaningful connections with other human beings, are all inherent in the ways we communicate now.
In a culture obsessed with fame and brevity, a culture driven more by images than words (and so more likely to lack in substance, since we're not talking about images worth looking at again and again, but only about quick images that get us to the next one), the only words allowed being the simplest ones and the simplest ideas and the simplest emotions (which seem to be anything which encourages arguments, insults, hatred, envy, fear, gossip, and humiliation), and that the combination of cheap fame, cheap images, and even cheaper words gives birth to a populace in love with cheap and easy ideas, and a populace completely unable to deal with complexity or contradiction, or anyone at all different from them.
I've heard it said that the internet has opened people's mind to other cultures, but I don't see it—rather, I think it's only created ways for people to form larger groups who think just like them. Online culture encourages more, rather than less, sectarianism.
And since we lack the quiet and the privacy needed to really think things through, to really reflect, to really understand ourselves and what we believe (let alone what others understand and believe), the possibility for real communication is gone, the entire world just a huge high school, and the human beings we once sought to connect with are just walking labels, walking bumper stickers, supposedly complex people with a past and with emotions and with desires and fears and worthy of respect and dignity, but now just summed up in a few tag words, a few slogans, and all because the prevailing modes of communication encourage shallowness on all fronts, and all because the only way to truly experience compassion or empathy (whether given or received) is through an ability to live with complexity and contradiction, hard decisions, difficult thoughts, and people who are utterly different than us, people and situations that can't be summed up easily at all.
IV.
When the present moment isn't apprehended as a wonder, as a sacrament, it's always the future that becomes sacramental, whether in repeated certainties about the afterlife, or just in our culture, which makes us seek the future with brief entertainments that get us to the next entertainments.
An example is a diet program which tells women that if they work hard enough they will "finally have the body they've always wanted in a year." This is necessary because, if a woman was suddenly happy with the body she did have, today and now, there would be no worrying about it tomorrow—and so she would have to figure out what to think about in the time she used to think about dieting.
Our culture is obsessed with telling us that the present moment we're experiencing is simply substandard—we need to do other things, watch other things, buy other things, talk about other things. We need what they are selling.
So much "culture" is just cloaked advertising intended to make us hate ourselves. Our "culture" has to emphasize that true happiness and contentment are in the future, since if it was in the present, all consumption of media would stop.
The well-used literary device of the cliff-hanger has been allowed to rule the house—everything, from a drama series to sitcoms to the "news," while perhaps attempting to impart information and even creativity, are merely vehicles of getting one to the next commercial break, the next show, the next episode. Everything is mere titillation and entertainment. Even the "news" is nothing but entertainment, and aimed only at our cheapest impulses of voyeurism, our craving for humiliation, our love of envy.
The poet William Carlos Williams wrote that
It is ridiculous
what airs we put on
to seem profound
while our hearts
gasp dying
for want of love4
These six lines say more than I know to express. Yet it's worth noting that so much that passes for "culture" or "information" is little more than posturing, little more than false profundities, little more than airs and braggadocio, a lot of wind and no warmth, no substance, no fire, none of the love we gasp for. And isn't it ridiculous.
---